Horror fans, you're in luck— there's a new kid on the block.
THE BACKGROUND
Violet Hour Media is a (relatively) recently established horror fiction podcast production house, with three complete miniseries and one more currently mid-release. The shows are released under the network label "The Violet Hour," and are connected by a core philosophy that places a strong emphasis on audio clarity and adapting film-like techniques for an auditory medium. Their current offering, The Gloom, presents a true-crime style fictional investigation into the arson of a psychiatric hospital, the murders that followed, and the story of the four missing teenagers implicated in the acts.
THE SHOW
If you're a longtime fan of the realms of faux-true-crime and/or found footage horror, then the setup will feel familiar: There's a decades-old cold case. An investigative journalist determined to rehash the events and figure out the truth, whatever the cost. Hints of a conspiracy-style government cover-up. Possible supernatural interference eerily looming in the background. All tangled together and told to the audience via a fake true crime radio-show-within-a-podcast. If it sounds formulaic, that's because it is— but this isn't necessarily a bad thing. The Gloom crafts this structure intentionally, using a traditional format to deliver a narrative that intends to go against demeaning horror tropes surrounding mental illness, tropes that often place blame on and encourage fear of those suffering from those illnesses in the first place. Here, the story takes four teenagers dismissed by history as monsters and portends to ask: What circumstances led them here? Who did this to them? And, while it might be a bit too soon to tell for sure: How were they victimized by a system that promised to protect them?
When it comes to production, the Violet Hour team learns fast— the increase in production value from their first show, In Another Room, released mid-2020, and The Gloom is noticeable— sound effects are better, voices are clearer, and the audio has a better handle on how to communicate complex actions without the aid of equally complex visuals. There's still room to grow; the script occasionally suffers from the usual issues caused by bringing screenwriters into an auditory medium, including awkward, almost circular, back-and-forths between characters. The auditory palette of the show, too, has moments where it falls prey to the "overproduced" sound that is commonly found in productions focused on high-quality audio (Think along the lines of audio fiction from studios like QCODE and Gimlet.) These are things that will naturally improve with time and experience, though, and Violet Hour's track record indicates that the network is more than capable of putting out increasingly higher quality content as time goes on.
At the time of writing, there are only two episodes of the show available (at the time of publishing, there are four,) with anticipated weekly releases for a run of eight full episodes.
TL;DR
The Gloom is the latest in a line of podcasts trying their hand at crisp audio within fake-true-crime, and one that sets itself apart with its intention to subvert the ableist tropes that plague the horror genre. If you've been waiting for your next favorite podcast since Limetown, then it might just be the show for you.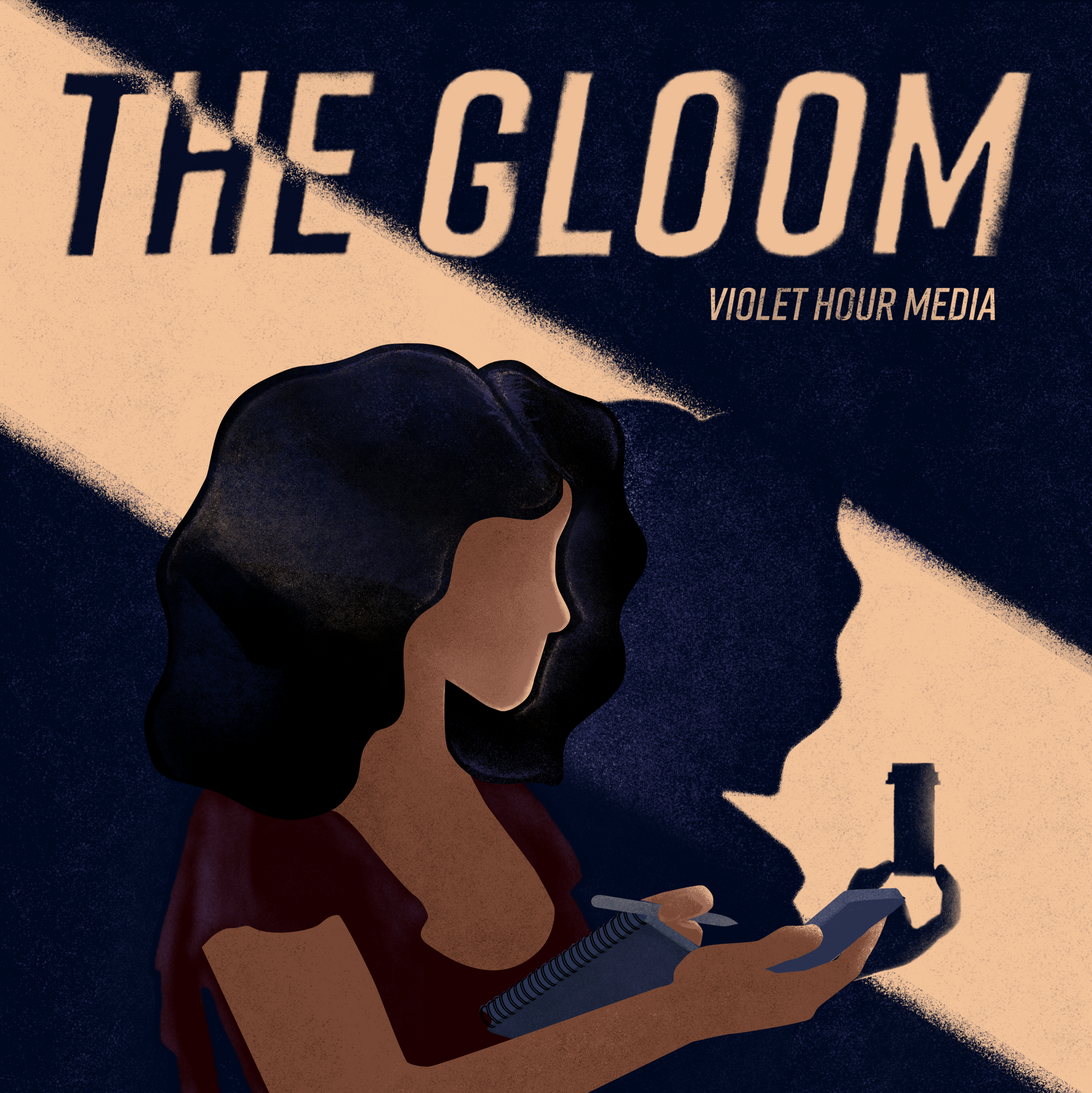 THREE QUESTIONS
I had the pleasure of speaking with Violet Hour Media CEO Cassie Jozefov about Violet Hour Media and The Gloom:
(The following questions/answers have been edited/condensed for clarity)
1. So, creating Violet Hour. What is it specifically about the stuff already out there that just wasn't doing it for you? You've talked about production quality elsewhere; was there anything else?

JOZEFOV: Yeah, so I think that I would have a couple different categories. One would be the production value and quality, like it's something that I would want to listen to, and it's just evenly done, really immersive— all of that. But another thing that's really important to me is diversity and inclusion. And as as a woman— I'm also Latina— I just I know that audiences are demographically like me. So I just really wanted more content that was resonating with me, like made by people, for people like me. So that was a big thing.
For me, when I'm looking at what's out there, and other big studios that are producing stuff, it doesn't quite click with me. And that's probably because no one with my background is is actually the one who's making it. And to further that point, everything at the Violet Hour, has diversity, inclusion baked into our business model. I have the privilege of doing that since I do run the company. When we're hiring, when we're casting, when we're choosing which stories to produce, diversity is is really important.
Basically, we're trying to work with as many non-traditional, non-traditionally represented people as possible. So people of color, women, LGBTQ+ people, people with disabilities— and not to the exclusion of of men, or of white men, but just in really putting a focus on that. Because when I'm hiring, 80, 90% of the resumes will be from guys who have a lot of experience. But it's really up to people like me in these positions to say, I'm going to take a chance on a woman who doesn't have as much experience, or on someone who, you know, might not have the right kinds of traditional experience, but believe in their vision and give them a chance somewhere.
Because that's exactly how you get more people in positions like I am: by elevating people kind of at an entry level or mid level, supporting their crews, giving them a chance. And then they'll eventually get to the point where they can hire, and I just, I just think that hiring is a really, really important part of that process.
2. Horror has historically been unsympathetic towards those with mental illnesses and mental health issues. But from what's out so far, it seems like The Gloom is interested in giving these teens a bit more sympathy? Can you speak to that, and what sort of work went into crafting the narrative?
JOZEFOV: That's exactly what we're trying to do. This is a story about these teenage kids who commit these terrible crimes. We're not really sure whether that's driven by some kind of supernatural force within them or it's driven by mental illness. And that's kind of the crux of the story. We've seen this story before, for instance Nightmare on Elm Street 3- there's lots of iterations of this- but this one's really about Black and Brown kids, kids in the poor area of the city, and that's kind of the common thread. They're either foster kids, or they've been abused, or they're having a really hard time at home, those types of things.
And the writers wanted to tell those stories because we've heard the Nightmare on Elm Street version before a lot of times, and wanted to really share where they're coming from. And I think one of the most interesting parts of this, that really grounds the story in a lot of realness, is one of the writers is actually a teacher in that area in New York, and he specializes in teaching kids with developmental disorders, so, you know, stories about events that he's seen when kids are having episodes and it feels like they're possessed. Oftentimes it is a bad home environment coupled with mental illness and things like that, so. It's an opportunity to share that, you know, maybe things aren't always what you see. When you look at statistics of the percentage of the incarcerated population that are non-white, maybe you're not getting the whole story by looking at numbers and statistics; maybe there's other stuff.
Were there ever any worries that the faux true-crime nature of the framing could end up working against that goal?
JOZEFOV: So we settled on that [true crime] as a vehicle to tell the story and really more of a found footage- I think that's like a subset of true crime. But one of the things we loved about the story and the true crime opportunity was the fact that our narrator is Samantha Williams, and she's a Black woman, a young Black woman dealing with lots and lots of these similar types of issues. In the first couple episodes, she's like, "I see myself in them." So we thought that was a fresh take on it as well. And similar to like how I'm- I'm not sick of, but I wish there were more scary stories told by by women. That's kind of their opportunity to like— Well, you know, this one does have male writers. But at least it's a female character who's empathetic and has gone through those types of ordeals who's the one in charge of telling the story for us.

3. You're planning to have eight Violet Hour pods out by the end of the year, any sneak peeks?
JOZEFOV: I'll give you the line on two. One is going to be more of an epic; it'll be longer- we've traditionally done eight episodes; that one's going to be longer, more of our attempt to start building something a bit longer lasting. The easy way to describe it is: It's a "Heart of Darkness in space," or "Apocalypse Now in space," depending on which version of the story you're more familiar with.
And then the second one is going to be probably coming out around Halloween. It is a story about four final girls who each survived their own Friday the 13th style massacre, and they band together to team up and and go get justice for for themselves and other victims like so that one's really cool. And just like so, so powerfully female. I'm really excited about it. Both of them are going to be great, very different.
---
The Gloom will continue to release weekly through June 21st, 2021. Transcripts are available upon request.
You can find Violet Hour Media at their website and on Twitter.
Photo Credits: Emily Morter on Unsplash